I recently visited a Lego store in Orlando and was struck by the level of excitement and engagement throughout the shop. The feeling was equal parts Apple store (where everyone is involved but typically staring independently at  screens) and pre-school sensory table (where individuals and groups interact, build, and create common stories).
As I moved through the space, I realized this is exactly the kind of constructivist experience we sometimes hope to create in a learning environment.  Some highlights: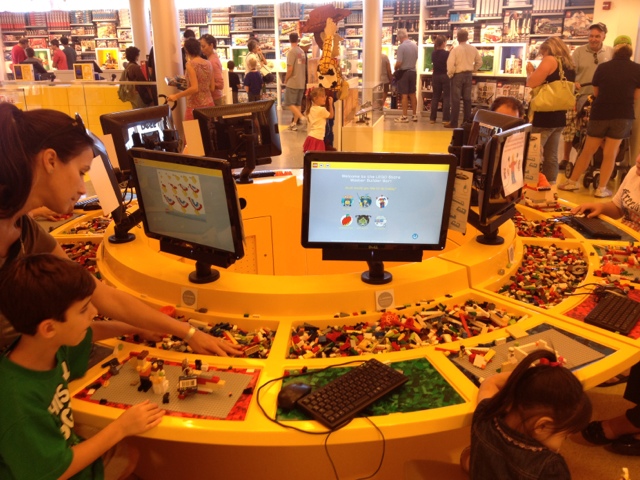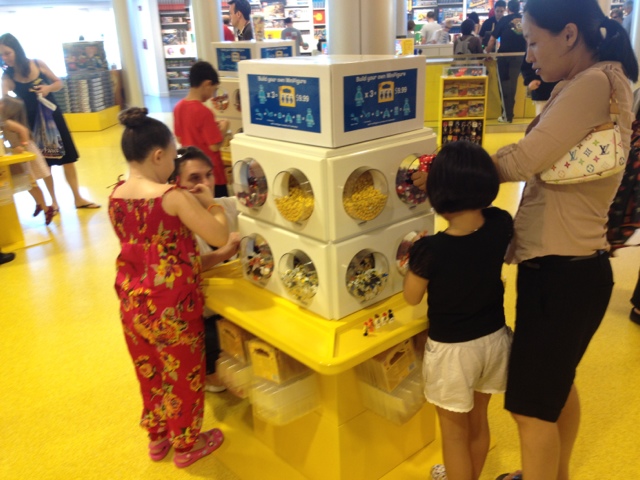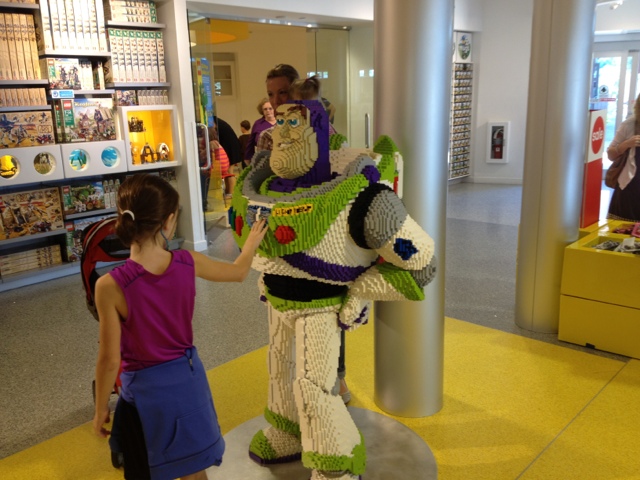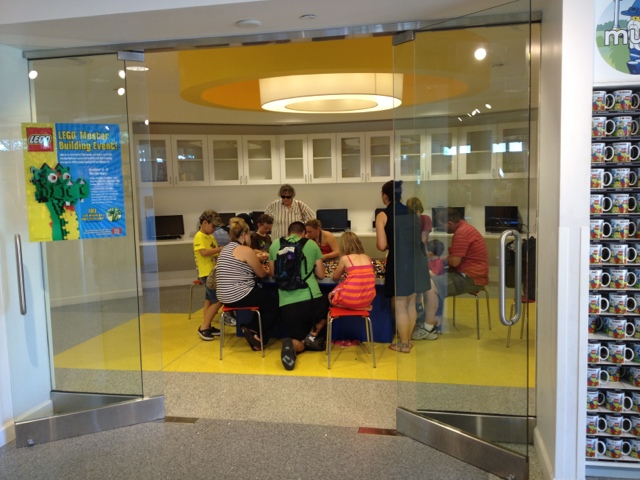 The Lego store doesn't "look" like a traditional classroom, but there was learning going on everywhere…and not just fact memorization. I overheard snippets of some fascinating conversations:
A seven-ish year old was asking his younger sister which of his two vehicle creations would win a race – and she supported her assessment by pointing out the number and size of the wheels.
A family looking at a Lego sculpture of Woody (from Toy Story) were trying to estimate how many blocks it would take to create. They were counting small segments and then multiplying them together to get a rough sense.
Two tiny kids were acting out a story with a couple of customized Lego characters they had made.
A mother and son were using Digital Designer to mock up a custom model that they could purchase.
About 60 children from ages 2-80 were elbow deep in build bins out in front of the store.
Physics, creative expression, architecture, multiplication, sympathetic reasoning, and logic – so much learning going on! To take a look inside a school that is embracing the fluidity of constructivist concepts within a rigorous academic program, spend a few minutes with this promotional video about Minarets High School in California:
Further resources
Of course, environment isn't the only requirement for a successful educational space, but it is a step in a good direction. Interested in learning more? Go visit a Lego store. Otherwise, here are a few books that might get your creativity going:
The Third Teacher: 79 Ways You Can Use Design to Transform Teaching & Learning (Architecture)

"The Third Teacher explores the critical link between the school environment and how children learn, and offers 79 practical design ideas, both great and small, to guide reader's efforts to improve our schools." (excerpt from the book description).
Turning Learning Right Side Up: Putting Education Back on Track

"Dr. Russell Ackoff and…Daniel Greenberg…take on the very deepest questions about education: What should be its true purpose? Do classrooms make sense anymore? What should individuals contribute to their own education?" (excerpt from the book description).
A New Culture of Learning: Cultivating the Imagination for a World of Constant Change

"By exploring play, innovation, and the cultivation of the imagination as cornerstones of learning, the authors create a vision of learning for the future that is achievable, scalable and one that grows along with the technology that fosters it and the people who engage with it." (excerpt from the book description).
N4ZVQ22U5RVX