Editor note: discussing "jobs from the future" may be a creative compliment to high school classes studying economics, sociology, media literacy, entrepreneurism,  etc.
We are currently preparing students for jobs and technologies that don't yet exist . . . in
order to solve problems we don't even know are problems yet.
In pondering the Fisch & McLeod's quote from Shift Happens 2.0, I can't help but imagine what these jobs will be. While social science fiction focuses on the more glamorous possibilities, the reality is many employment opportunities will be rather pedestrian – back in 1990, a full-time job as a bulletin board moderator seemed futuristic.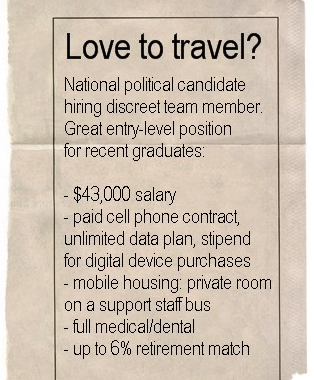 Assuming capitalism & consumerism march onward, we still have electricity, and everything that can be outsourced will be, what are opportunities for recent grad employment?
Young people may turn to stints as Surfer Surrogates. A surfer surrogate effectively rents their online identity: travelling with high-profile clients (sports stars, movie stars, politicians, executives) and allowing them to use/tarnish the surrogate digital footprint and geo-location data.
The boss can use a surrogate's interactive devices to do what he or she wants to online…without the search terms, frequented sites and online interactions being traced back to their own name. A candidate for governor could sit on a tourbus watching honey badger videos all day on a surrogate computer while other staff members use the candidate's devices & accounts to post video/micro-blog/photo updates and visit pertinent "grown-up" sites (legal, federal, news-based, political, etc).
Physical surrogates will be preferable to tech-based cloaking systems because there will be someone to take the blame for illegal data downloads or questionably moral activity. Surrogate contracts will include non-disclosure agreements and enormous legal penalties for violation.
Have your own ideas of "jobs from the future"? Please comment or post and link back! 
Example surfer surrogate posting:
Help wanted: Love to travel? Looking to get paid just for showing up?
National political candidate is hiring a dependable and discreet team member. Great entry-level position for recent graduates.
This job package includes:
$43,000 salary
paid cell phone contract, unlimited data plan, stipend for digital device purchases
full medical/dental/vision benefits
up to 6% retirement match
mobile housing – private room on a support staff bus
Please note: you will be required to sign a non-disclosure agreement prior to interview.